Veterans
Every year, over 15,000 servicemembers transition out of the Armed Forces in San Diego and about half stay here as they begin civilian life. San Diego is also home to one of the nation's largest populations of homeless veterans. We owe it to them, and to every veteran, to ensure they have an affordable place to live, and access to the care and benefits they earned through their service. I'm working to honor our promise to our heroes. I helped craft and pass the Forever GI Bill, which gave veterans flexibility to access the educational benefits they earned when they need them—including my bill that gives Purple Heart recipients their full education benefits. That's just one way we can honor our nation's heroes. We also need to reduce the stigma surrounding veteran mental health and ensure veteran families have the resources they need to support veterans when they return home. We also must explore options like telehealth and expand the network of mental health professionals at the VA. We must keep our promises to the men and women who volunteered to fight for our freedom and security― just as they served us.
Serving Our Veterans
Our veterans selflessly served our country and defended our freedom. Theirs is a debt we can never fully repay, but we can honor their service by ensuring they have a smooth transition to civilian life, providing safe and stable living conditions after service, and offering access to quality care. Click below to read my full plan to serve veterans here at home and in Congress: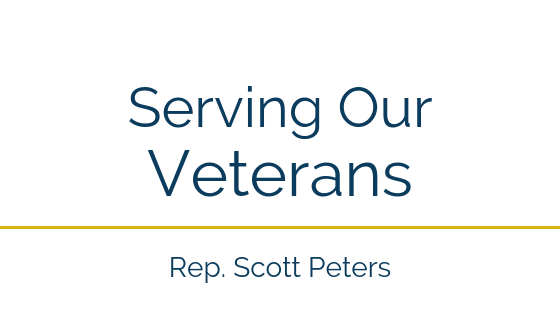 Getting Every Veteran a Job
Our veterans are hard-working, well-trained, and possess the management skills that many employers are seeking in employees. In Congress, we need to help veterans transfer their skills from the military workforce to the civilian workforce.
Allow veterans to use education benefits for apprenticeship programs.
Reduce the recertification burden for veterans.
Expand hiring opportunities for veterans at solar and renewable energy companies.
Allow homeless veterans to be eligible for job training programs through the Department of Labor.
Bills Introduced
Bills Cosponsored
H.R. 2551, the Veterans' Entry to Apprenticeship Act
H.R. 344, Manufacturing Jobs for Veterans Act
H.R. 3286, HIRE Vets Act
H.R. 3312, Benefits Network Act
Honoring the Earned Benefits Promise
We owe it to the men and women of our Armed Services to follow through on the commitments made to them. We must also review and make improvements to benefit programs that are not providing appropriate support for servicemen and women, veterans, and their families.
End the "Widow's Tax" which unfairly penalizes military surviving spouses.
Make veteran cost-of-living adjustment (COLA) permanent.
Allow service-disabled veterans to receive both military retired pay and disability compensation.
Bills Cosponsored
H.R. 303, Retired Pay Restoration Act
H.R. 507 American Heroes COLA Act (113th)
H.R. 333, Disabled Veterans Tax Termination Act
H.R. 315, Filipino Veterans Promise Act
H.R. 483, Filipino Veterans Family Reunification Act of 2015
H.R. 915 Voices for Veterans Act
H.R. 1594, Military Surviving Spouses Equity Act
H.R. 1598, Veteran Spouses Equal Treatment Act
H.R. 1384, Honor America's Guard-Reserve Retirees Act
H.R. 1845, Military Family Leave Act
H.R. 1948, Veterans' Access to Child Care Act
H.R. 3278 Veterans Dignified Burial Act
Supporting Quality Education for Veterans and their Families
Part of ensuring that our veterans are able to find gainful employment and pursue the American Dream is making sure that they and their families have access to high quality education. Veterans education benefits should be improved to expand the number of schools veterans can attend and schools can take steps to better incorporate veterans into their communities.
Provide in-state tuition to veterans on the GI Bill.
Promote student veteran resource centers on college campuses.
Address the broader need needs of being a student veteran.
Bills Cosponsored
H.R. 182, to direct the Secretary of Veterans Affairs to permit the centralized reporting of veteran enrollment by certain groups, districts, and consortiums of educational institutions.
H.R. 456, Reducing Barriers for Veterans Education Act of 2015
HR. 2008, GI Education Benefit Fairness Act
Ending Veterans Homelessness in San Diego
San Diego is home to one of the nation's largest populations of homeless veterans. This is unacceptable. We must do more to ensure that our veterans have safe, stable places to live and build a life after completing their service.
Advocate for more HUD-VASH vouchers that are appropriate for San Diego's housing market and work with the San Diego housing stock to ensure they can be used as intended.
Support local pilot programs for permanent, non-transitional housing.
Improve transition services between active-duty and veteran status.
Get San Diego its fair share of funding to address homelessness by making changes to the Department of Housing and Urban Development funding formula.
Ensure that veterans have fair access to housing assistance through the Department of Housing and Urban Development
Expand home foreclosure protections for veterans and their families.
Bills Introduced
Bills Cosponsored
H.R. 252, Comprehensive Homes for Heroes Act of 2015
H.R. 501 Veterans and Servicemembers Employment Rights and Housing Act of 2015
Ensuring Veterans Access to Quality Healthcare
Recent scandals have rocked the VA and have brought to light the need for substantial oversight and reform. I am committed to improving VA service and holding the VA accountable. We must do everything in our power to restore trust and confidence in the VA and to ensure that our veterans are receiving the highest level of care possible.
Integrate DOD and VA healthcare information.
Reform the culture of complacency and acceptance of poor performance at the VA.
End the stigma around mental health care and reduce the rate of veteran suicide.
Allow treatments to follow the patient from DOD to VA healthcare facilities.
Increase NIH research funding to study mental health.
Allow veterans and their families who were exposed to toxins to get the health care they deserve.
Bills Introduced
21st Century Care for Military and Veterans Act, to increase access to telehealth and remote health services in TRICARE and the VA.
Post-Traumatic Stress Awareness Month, designating the month of June 2015 as National Post- Traumatic Stress Awareness Month and June 27, 2015 as National Post-Traumatic Stress Awareness Day – noting the stigma that comes with calling it a "disorder."
Marriage and Family Therapists for Veterans Act, to expand veteran access to mental health professionals at the VA by opening hiring practices to all accredited Marriage and Family Therapists
Bills Cosponsored
H.R. 1735, National Defense Authorization Act of 2016
H.R. 421, Classified Veterans Access to Care Act
H.R. 203, Clay Hunt SAV Act (mental health)
H.R. 572, Veterans Access to Community Care Act of 2015
H.R. 1101, Viral Hepatitis Testing Act of 2015
H.R. 1247, Improving Veterans Access to Quality Care Act
H.R. 1356, Women Veterans Access to Quality Care Act
H.R. 1496, To amend title 38, United States Code, to improve the access to child care for certain veterans receiving health care at a facility of the Department of Veterans Affairs.
H.R. 577, To require the Secretary of Veterans Affairs to use existing authorities to furnish healthcare at non-Department of Veterans Affairs facilities to veterans who live more than 40 miles driving distance from the closest medical facility of the Department that furnishes the care sought by the veteran.
H.R. 1602, Nurse Staffing Standards for Patient Safety and Quality of Care Act
Veterans Choice Act (113th)
HR 1994, VA Accountability Act
H.R. 2104, America Cures Act
H.R. 2123 Enhancing Veterans' Access to Treatment Act
H.R. 2894, CARE for All Veterans Act (9/11 related injuries and mental health)
H.R. 2974, Veteran Continuity of Care Act
H.R. 969, Blue Water Navy Vietnam Veterans Act of 2015
H.R. 1769, Toxic Exposure Research Act