Rep. Peters Helps Fund Immigration and Refugee Services, Tijuana Border Water Infrastructure
Today, Rep. Scott Peters (CA-52) helped pass a government spending bill that funds federal agencies and priorities related to Labor, Health and Human Services, Education, Defense, State, Foreign Operations, and Energy and Water Development. The bill rejects President Trump's budget that stripped funding from important health care, environment, and humanitarian programs. Instead, it invests in research, services for asylum seekers, border water infrastructure, and national defense.
"The spending bill we passed today invests in San Diego priorities that will strengthen our regional economy, provide for the national defense and our servicemembers, and fix the humanitarian and environmental crises at the border."
"Families leave their homes and make the dangerous journey to the United States to flee violence and oppression. President Trump's Administration wrongly cut foreign aid, which only exacerbated these problems. This bill restores nearly $8 billion for migration and refugee assistance worldwide, including refugee resettlement," said Rep. Peters. "I also joined my colleague Rep. Shalala in offering an amendment to increase funding for immigrant legal services and child advocates by $10 million. My hope is that this funding will ensure asylum seekers in San Diego—and across America—get the due process required by international law."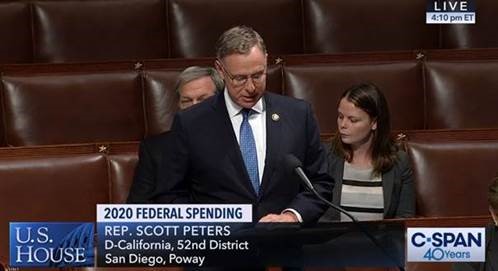 Watch Rep. Peters speak in support of Rep. Donna Shalala's (FL-27) amendment to add $10 million in funding to provide critical legal and health services for refugees – predominantly aimed at helping children.
Rep. Peters continued, "The bill also funds critical border water infrastructure programs that could help address the Tijuana sewage spills. It requires the International Boundary and Water Commission (IBWC) to work with Mexico's government to come to an agreement about how to address the spills and submit a report to Congress with concrete steps to alleviate the issue within 45 days after the bill becomes law. It also provides $78 million for the IBWC to tackle this and other border water-related issues."
The legislation also includes the funding of other programs and priorities for San Diego, many of which Rep. Peters advocated for in letters to his colleagues:
Health Care:

$41.1 billion for National Institutes of Health (NIH), which is an increase of more than $10 billion since Rep. Peters has been in office, an increase of $2 billion above the 2019 amount, and $6.9 billion above the President's budget request
$8.3 billion for the Centers for Disease Control, which is $938 million above the 2019 amount and $1.7 billion above the President's budget request
$2.4 billion for HIV/AIDS medical care, support services and grants to local organizations, which is an increase of $116 million from Fiscal Year 2019
$50 million for gun violence prevention research, $25 million each going to the Centers for Disease Control and National Institutes of Health. This is the first time the federal government has funded this research in over twenty years

Education:

$11.6 billion for Head Start programs, which provide low-income kids and families comprehensive early childhood education, health, and nutrition benefits
Increases funding for Pell grants to make the maximum award $6,395
$7.7 billion for Child Care and Development Block Grants, which help low-income families pay for child care

Defense:

3.1 percent military pay raise, equal to the President's budget request
$22.9 billion for depot maintenance, including aircraft maintenance in Coronado
$9.7 billion for Special Operations Command Operation and Maintenance; includes funding for Navy Seals in San Diego
$21.7 billion for 11 new Navy ships
6 MQ-1 Gray Eagles, and an additional $90 million for the Gray Eagle service life extension program
27 MQ-9 Reaper air vehicles, 12 more than the President's request
Prohibits the use of any military funds to build the President's border wall

International Funding:

$10.5 million for the United Nations Framework Convention on Climate Change
Prohibits the use of funds to withdraw from the Paris Climate Agreement
$5.93 billion for the President's Emergency Plan for AIDS Relief

Environment and Energy:

$35 million for advanced algal systems, which will be used to expand innovation in biofuels
$37.1 billion for the Department of Energy, which is an increase of $1.4 billion from Fiscal Year 2019, which includes carbon capture utilization and sequestration funding
$2.65 billion for Energy Efficiency and Renewable Energy (EERE), which was nearly zeroed out in the President's budget, and $272 million above Fiscal Year 2019 levels
$425 million for Advanced Research Projects Agency -Energy (ARPA-E), a program the President's budget eliminated
$350 million for electric grid research and development
$1.3 billion for nuclear energies, focusing on advanced nuclear technologies
$10 million for research and development of direct air capture technologies, which will help to remove carbon from the atmosphere, and is necessary to achieve emission reductions
$144 million for the WaterSMART Program, which supports local groups, including city governments, to modernize their infrastructure to address increased clean water needs. Rep. Peters led the San Diego delegation in requesting an increase of $36 million from Fiscal Year 2019
This bill is the first of several spending packages the House is expected to pass to fund the government for Fiscal Year 2020 and avert a government shutdown. The Senate must vote on each bill passed by the House before both chambers negotiate final spending levels and send it to the president.