Civil Rights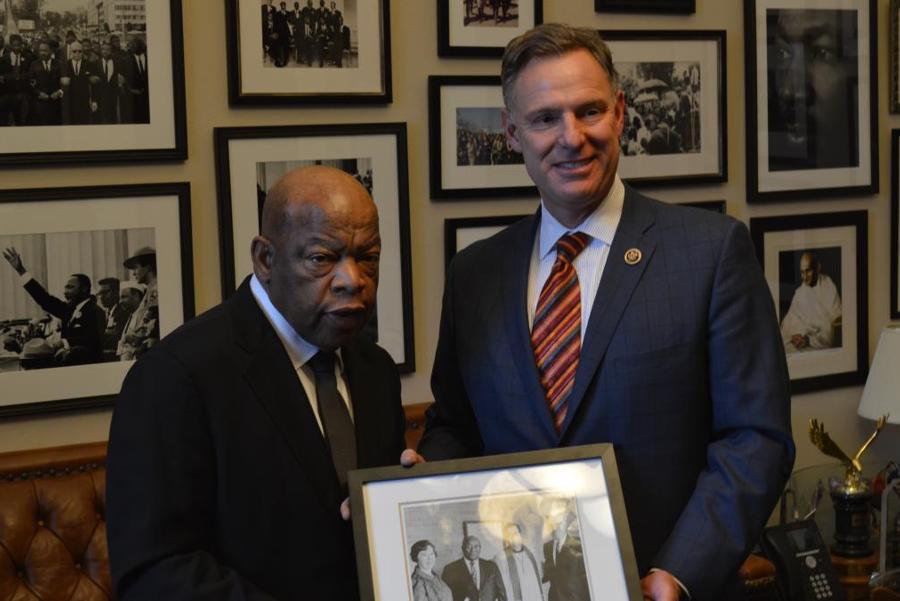 Our nation was founded on the principle that everyone is entitled to the same, unalienable rights. Today, our nation continues to adapt as history demands we expand the definition of equal. In my service to San Diego, that means ensuring respect for all. Discrimination has no place in a nation as great as ours. I will continue to oppose policies fueled by hateful rhetoric that marginalize Americans. That means standing up for women in school and in the workplace and ensuring they can make their own health care decisions. It means standing up for our LGBT community because no one should be targeted for who they are or who they love. We must also ensure our minority communities have a voice and that refugees and immigrants have the same opportunity to build a better life in America? just as our ancestors did. Finally, Americans have the right to safety from hate-motivated attacks and the epidemic of gun violence that continues to plague our communities.
Fighting for Equality
Every American is granted the same rights under our Constitution, which says that everyone is created equal. We've come a long way in the fight for equality, but we still have more work to do. I'm fighting to ensure you can marry who you love, that you receive equal pay for equal work, and that survivors of sexual assault and harassment have stronger protections and greater access to legal remedies.
Strengthening Voting Rights
Among our most basic, sacred rights as Americans is the right to vote. While we've made great strides in the fight for equal voting rights and access, we have to do more. Americans across the country still face discrimination and disenfranchisement at the ballot box. We must continue to challenge injustice and ensure every American can exercise their constitutional right to vote freely.
Cosponsored the

Voting Rights Advancement Act

, which restores protections under the Voting Rights Act of 1965. It addresses the discriminatory state laws aimed to suppress voting passed after

Shelby County v. Holder

by creating a nationwide formula to only focus on states that have recently passed discriminatory voting laws.

Cosponsored the

Automatic Voter Registration Act

, which requires state motor vehicle registries to submit identifying information of individuals to the state's election official. The bill provides an opportunity for individuals to opt out.
Protecting Healthcare
Protecting the health and safety of women and the LGBT community ensures their right to quality, affordable care--just like every other American. As a member of the House Energy & Commerce Committee, I was on the frontline fighting against the American Health Care Act (AHCA), which would repeal Obamacare and defund Planned Parenthood.
Expanding Opportunity
The American Dream was born out of our nation's belief that everyone should have equal opportunity to achieve their own version of success, regardless of race, origin, gender, religion, or socio-economic status. We must continue to work toward full equality in education and the workforce by lifting up those who have historically faced adversity as they try to make their American Dream a reality.
Cosponsored the

STEM Opportunities Act

, which would promote data-driven research on the participation and trajectories of women and underrepresented minorities in STEM so that policymakers can design more effective policies and practices to reduce barriers for women and minorities in STEM.
Voted to strengthen the entrepreneurial programs in the National Science Foundation that support women as well as voted to support NASA initiatives which encourage women and girls to study STEM and pursue careers in space.
Supporting an Inclusive Military
Brave Americans who volunteer to serve our country deserve our gratitude and respect, which means every servicemember--regardless of gender, sexual orientation or race get the benefits they earned through their service.
Cosponsored the

Veteran Spouses Equal Treatment Act

, which would ensure that if veterans or service members have a spouse of the same sex, their spouse will be afforded the same benefits as their heterosexual counterparts.

Voted to fund enhanced investigation of military sexual assault when he voted to pass an amendment to the Defense Appropriations bill that provides $10 million in additional funds to increase sexual assault training for investigators.

Voted to allow World War II Women Airforce Service Pilots to be buried at Arlington National Cemetery.

Cosponsored the

Restore Honor to Service Members Act

, which would ensure that members of the armed forces who served honorably, but were given a punitive discharge classification solely because of their sexual orientation, have their records corrected to reflect their honorable service.
Advocating for Commonsense Gun Safety Reform
We've witnessed far too many tragedies across the nation and it's past time for commonsense gun safety laws that protect our communities and keep guns out of the hands of those who may harm us. These tragedies can be prevented if Congress implements universal background checks, bans weapons of war, and prohibits terrorists and domestic abusers from purchasing firearms. These measures won't stop all gun violence, but if we are able to save even a single life, it would be worth it.
More on Civil Rights
December
2022
July
2022
June
2022
May
2022
April
2022
February
2022
August
2021
May
2021
April
2021