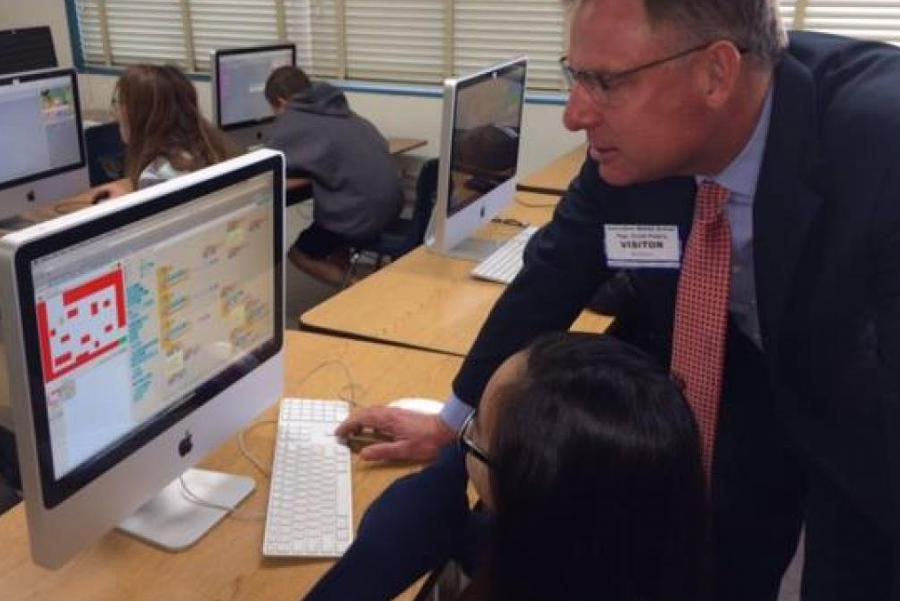 Education is the foundation for opportunity and a better life. I was able to go to college with the help of student loans and a federal work-study program, when the cost of college was much lower than it is today. I believe all students deserve a quality, affordable education, which is why I have prioritized making college more affordable by easing the financial burden of student loan debt. We also need to expand technical training and strengthen STEM education to meet the demands of a 21st-century workforce. And we can't do this without improving early childhood education, increasing access for military and veterans, supporting teachers, and creating dynamic and safe schools.
Scott's Education Plan
Expanding Opportunity and Driving Economic Growth
Make College Affordable Again ~ Allow students to refinance student loans at lower rates; incentivize employers to partner with recent college graduates to help pay off their loans faster and close the skills gap; increase access to college counseling and financial advising; require schools to present students with a multiyear tuition schedule to help students and families; simplify federal financial aid forms; expand flexibility and restore access to year round Pell Grants; modernize college savings plans; keep rises in college tuition in check; provide students, especially low income and first-generation students, the resources to increase rates of college completion
Prepare students in STEM & STEAM fields ~ Encourage growth of public-private partnerships to increase STEM opportunities for students; increase the number of women and minorities in STEM fields; make computer science a core academic subject; increase opportunities for students to learn coding and engineering; promote San Diego's innovative classrooms and expand student and teacher access to internet and technology in the classroom; encourage innovation by adding art and design into programs that target STEM fields
Invest in Quality Early Childhood Education ~ Expand and increase accountability in Pre-K and Head Start programs; measure the return of investing in early childhood education in federal policy; utilize research findings to update and streamline Head Start Performance Standards to lessen the burden on grantee programs; ensure children have the nutrition to optimize learning
Ensure Quality Education for Military Connected Students and Veterans ~ Fully fund Impact Aid for San Diego's and Coronado's military connected schools; report on the achievement of military connected students; increase access to accurate data about schools and hold schools accountable for violations and poor performance; allow individuals to use benefits to pay for college application fees; provide in-state tuition to veterans on the GI Bill; promote San Diego's effective student veteran resource centers
Enable Homeless and Foster Youth to Succeed ~ Require states to use existing data to track the academic progress of homeless and foster children to identify achievement gaps and increase transparency and accountability; promote San Diego's exceptional comprehensive schools that serve homeless children; prevent mistreatment of minority homeless youth; ensure eligible foster children are able to receive deserved GI benefits; ease the burden for foster and homeless youth to pursue higher education
Attract and Retain the Highest Quality Teachers ~ Fully fund Title I and Individuals with Disabilities Education Act to ensure teachers and students have the resources they need; provide student loan relief to teachers; require high teaching standards; support teachers' professional development in STEM fields, digital learning, and writing; incentivize those with STEM degrees to become teachers
Foster Safe and Inclusive Schools ~ Ensure students are safe at school; guarantee schools have effective anti-bullying policies that foster inclusive environments; promote mental health and decrease stigma of mental illness; provide student access to comprehensive health education; facilitate schools to make investments in sustainable facilities
For information on student financial aid, click here.
More on Education
November
2015
October
2015
August
2015
July
2015
June
2015
May
2015
March
2015