Press Releases
WASHINGTON, D.C. – Today, the Energy and Commerce Subcommittee on Environment and Climate Change held a legislative hearing focused on H.R. 1166, the Utilizing Significant Emissions with Innovative Technologies (USEIT) Act, introduced by Rep. Scott Peters (CA-52) in 2019.
The bipartisan, bicameral USEIT Act supports the development and demonstration of vital carbon capture and removal technologies, incentivizing scientific advancements in direct air capture (DAC) technology and innovative carbon dioxide utilization. Carbon capture is the process of removing harmful carbon from emissions or from the atmosphere, and is a critical tool in the fight to combat climate change. Specifically, the bill authorizes $35 million to the Environmental Protection Agency (EPA) to provide competitive grants for technologies that can cost-effectively remove carbon dioxide out of the air through direct air capture, and allocates $50 million to research technologies that transform captured carbon dioxide into commercial products.
"Climate change is an existential threat that must be resolved through pragmatic, efficient solutions," said Rep. Peters. "The International Plant Protection Convention (IPPC) says we must reduce emissions by 8 percent each year over the next decade to accomplish our core mission to reach carbon neutral by 2050. I was pleased to see this morning's hearing showcased how our bill will help us achieve that goal.
"The USE IT Act would accelerate the development and deployment of commercially viable carbon capture technologies. These technologies are important because carbon capture is the only way to decarbonize key industrial sectors of the economy. The USEIT Act will support research for these vital technologies, offering the United States a way to reduce carbon pollution, tap into unrealized financial opportunity, and spur movement towards a clean energy economy."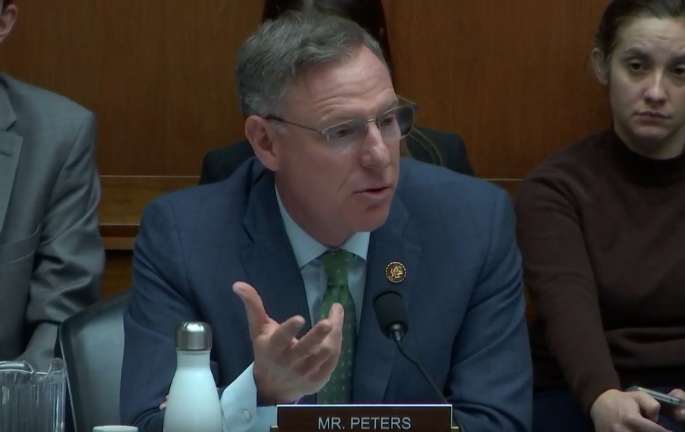 Watch Rep. Peters talk about the USEIT Act here.
Five expert witnesses testified before the subcommittee during the hearing, entitled, "Clearing the Air: Legislation to Promote Carbon Capture, Utilization, and Storage." Individuals on the panel represented various institutions and organizations, including Greenpeace USA, the Energy Project with the Bipartisan Policy Center, Utility Workers Union of America (AFL-CIO), the Wyoming Infrastructure Authority, and biotech startup LanzaTech, Inc.
Rep. Peters first introduced the bill in 2018 with Reps. David McKinley (WV-1), Marc Veasey (TX-33), and Cheri Bustos (IL-17). This year, Rep. David Schweikert (AZ-6) joins as a co-lead. Senators John Barrasso (R-WY) and Sheldon Whitehouse (D-RI) introduced a joint bill in the Senate, which passed the Senate Committee on Environment and Public Works (EPW) by unanimous consent last year. A bipartisan group of 57 House members have signed on as cosponsors of the USE IT Act.