Rep. Scott Peters Presents Overdue Bronze Star to World War II Veteran
SAN DIEGO – Today, Rep. Scott Peters (CA-52) presented a long-overdue Bronze Star Medal to U.S. Army veteran, Corporal Jack Thorpe, of Bay Park. Mr. Thorpe served during World War II, serving in Germany as part of the 4th Armored Division of General Patton's 3rd Army, that spearheaded the Allied advance through Europe, including the siege of Bastogne, which was part of the larger Battle of the Bulge. He also helped liberate the Ohrdruf concentration camp, the first German concentration camp liberated by U.S. troops. Mr. Thorpe's family contacted Rep. Peters' office after reading an article about Rep. Peters' office recovering overdue metals for another veteran in September.
"It is an honor to present Jack Thorpe with this long-overdue recognition. One of my most rewarding jobs in Congress is honoring our nation's heroes for their service and sacrifice," said Rep. Peters. "We are forever indebted to heroes like Mr. Thorpe, who were part of a generation that gave everything they had for their country."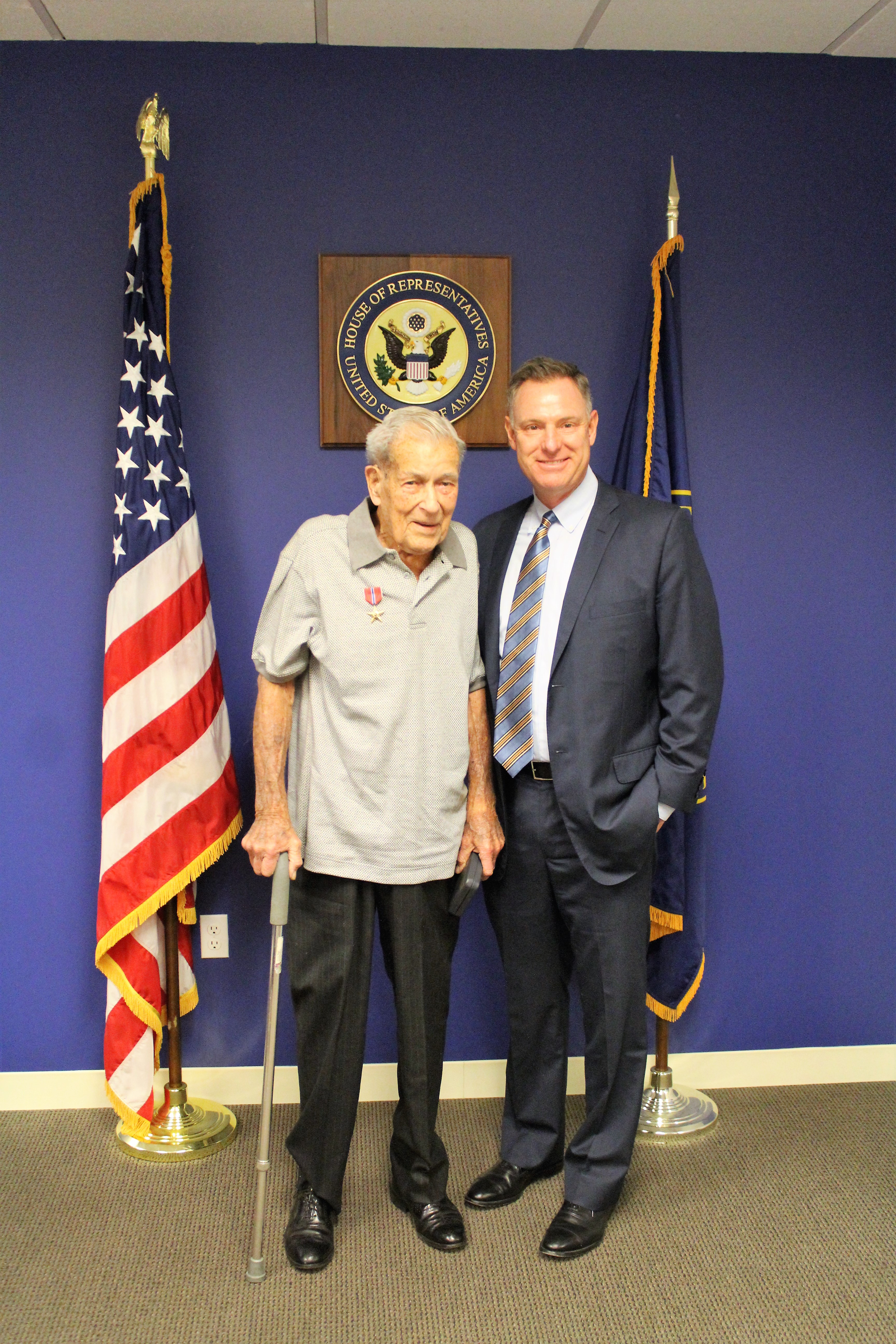 Rep. Scott Peters (CA-52) pictured with U.S. Army veteran Corporal Jack Thorpe (left).
Rep. Peters' staff worked with the National Personnel Records Center and the Department of the Army to determine that Mr. Thorpe was entitled to the Bronze Star. The Bronze Star is awarded to a servicemember for heroic or meritorious achievement or service action in combat against an enemy of the U.S. or while helping an ally.
"It's wonderful that somebody recognized what had to be done, especially after reaching out to many others for help that couldn't. I'm really amazed Rep. Peters' office was able to find this. I can't believe it," said Mr. Thorpe.
"My office is available to help any San Diego servicemembers, veterans, and their families who are struggling to get the care or recognition they have earned through their service. I encourage other veterans and their families to reach out if they need help," said Rep. Peters.