Rep. Peters Votes to Pass Bill to Lower Prescription Drug Prices, Secures Billions in Innovation Funding
Today, Rep. Scott Peters (CA-52) voted to pass H.R. 3, the Elijah E. Cummings Lower Drug Costs Now Act, which reforms Medicare drug pricing and lowers prescription drug costs for Americans. The bill also includes measures to fund innovation, research, and community health centers. Additionally, it expands Medicare coverage to include vision, hearing, and dental benefits.
"Seniors in San Diego—and across our country—should know that they can get the medicine they need and not go bankrupt. This bill allows the federal government to directly negotiate Medicare drug prices with pharmaceutical companies, which would lower costs for seniors, people living with chronic diseases, and others who pay massive amounts out of pocket for the medicine that keeps them alive," said Rep. Peters. 
Rep. Peters introduced an amendment to support the commercialization stage of research, later-stage research and development, and technology transfer, which would boost innovation. The amendment is based on Rep. Peters' bill, the Innovation and Capital Network Act of 2019, which creates a $500 million innovation startup fund at the National Institutes of Health to incentivize incubators, accelerators, and other financial backers to support biotech companies through early-to-mid-stage clinical studies. 
Rep. Peters continued, "No bill is perfect, which is why I offered an amendment to support the innovation that has developed drugs in San Diego and across the country to treat some of life's most crippling conditions including cancer, diabetes, cystic fibrosis, and Parkinson's. It also supports San Diego's innovation economy, which drives tens of thousands of jobs in San Diego alone—scientists, entrepreneurs, academics, and researchers who call our region home."
Rep. Peters and Rep. Anna Eshoo (CA-18) worked to include language in H.R. 3 based on H.R. 4633, the Investing in Safety and Innovation Act of 2019, which would provide an additional $2 billion to fund innovation at the Food and Drug Administration (FDA). The funding would specifically direct the FDA to modernize its technologies, adopt advanced manufacturing techniques for biologics and drugs, develop individualized gene therapies, and recruit and retain technical talent.
Rep. Peters also worked with Chairman Pallone to include a pilot program in the larger bill that will award multi-year contracts to public and private research institutions, contract research organizations, medical centers, and biotechnology companies to support phase 2 and phase 3 clinical trials. The pilot program will receive $500 million every year for five years.
  "I am grateful to Chairman Pallone for supporting my priorities and working to include them in the bill. However, I also recognize that families in San Diego need lower drug costs now. That is why I supported an amendment that contained bipartisan measures to lower drug prices that can become law today. Families who have to choose between putting food on the table and taking the medicine they need to survive cannot continue to wait for Congress to act," Rep. Peters concluded.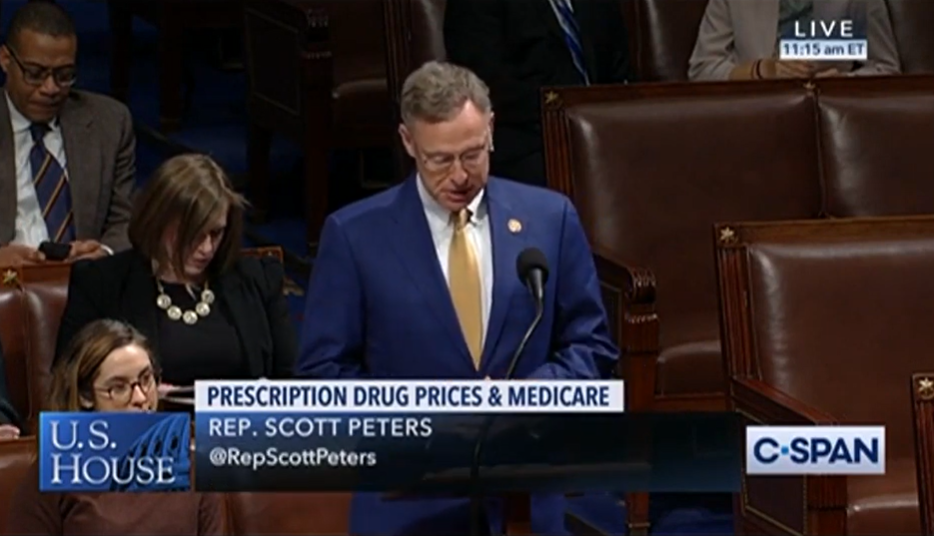 Watch Rep. Peters offer his innovation amendment on the floor here.
Rep. Peters voted for the legislation when it passed out of the Energy and Commerce Committee.
H.R. 3 includes three main strategies to lower drug prices:
The bill empowers the Secretary of Health and Human Services (HHS) to negotiate the price that Medicare pays for at least 25 of the highest-cost drugs without at least two competitors on the market each year.
It also establishes an international reference price to inform the Secretary's negotiation, and caps the price paid by the federal government for a drug at 120% of the average price paid by Australia, the United Kingdom, Japan, Canada, Germany, and France. For drugs that are new to the market or which are not available in those other countries, the Secretary would have authority to negotiate a 15% discount on the list price.
If a drug manufacturer refuses to negotiate the price of a drug with the Secretary, the Secretary is authorized to institute an excise tax of 95% of revenue from the non-negotiated drug.
The bill also establishes an inflationary rebate program in Medicare Parts B and D that would tie annual price increases for either branded or generic drugs (including biologics and biosimilars) to inflation. If a manufacturer increases prices in a given year above the rate of inflation, the federal government requires the manufacturer to rebate the difference between the price increase and the rate of inflation to the federal government.
Additionally, the bill reforms the cost-sharing structure for the Medicare Part D benefit. In doing so, Part D enrollees would spend maximum of $2,000 out of pocket on drugs each year, and plan providers and drug manufacturers would cover more of the costs above $2,000 than they currently do.
Rep. Peters has advocated for protecting the Affordable Care Act, boosting medical innovation, expanding whole genome sequencing for children, and caring for our seniors.