Rep. Peters Visits Miramar Starbucks Supporting Veterans and Local Military Families
San Diego, CA– This week, Congressman Scott Peters (CA-52) visited Starbucks on Miramar Road to learn about their programs to hire San Diego veterans and military families, assist employees seeking higher education, and provide unused food to Feeding America for distribution throughout San Diego. The food bank initiative started as a pilot program in San Diego, and will now be expanded to Starbucks locations around the country. As part of the Starbucks "Behind-the-Bar" Program, Congressman Peters also tried his hand at making coffee drinks and serving customers as a barista.
"It's inspiring to see the innovative approach that Starbucks is taking to employ veterans and military families and help make higher education more accessible," Rep. Peters said. "And like so many of San Diego's innovative ideas, the local collaboration to donate unused food items will now be implemented across the country to help feed the hungry."
Following the roundtable discussion with Starbucks partners and employees, local military veterans and their spouses, Rep. Peters joined Starbucks staff behind the bar to help with orders and learn how to brew the perfect latte. The Miramar Starbucks employees that trained Rep. Peters are spouses of active duty marines stationed at Marine Corps Air Station Miramar.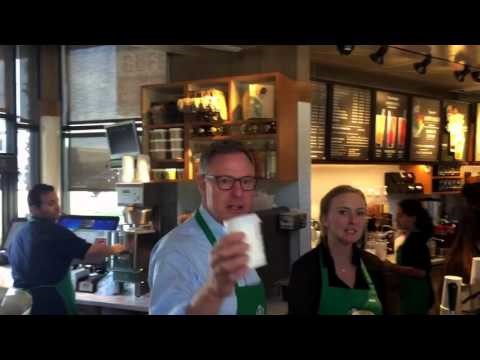 Click here or on the image above to see Rep. Peters learning how to be a barista.
Congressman Peters serves the 52nd District of California which covers much of central San Diego County including Poway, Coronado, and large portions of the City of San Diego. He is a member of the House Armed Services Committee and House Judiciary Committee. The Congressman is a former environmental attorney, City Council President, and Port Commission Chairman.