Rep. Peters Introduces Bipartisan Bill to Support Algae Development in Agriculture
This week, U.S. Congressman Scott Peters (CA-52) introduced the bipartisan Algae Agriculture Act of 2018, which would support the development of algae innovation by updating U.S. agricultural policy to ensure this new and emerging sector is eligible for the same investment opportunities as other agricultural sectors. All four co-chairs of the Congressional Algae Caucus are original sponsors.
"San Diego has shown algae has the potential to change the way we look at fuel, manufactured products, and more," said Rep. Scott Peters. "UC San Diego's cutting-edge research is deploying algae to make products like flip-flops and surfboards, while business leaders like Cellana are using algae to capture CO2 and produce biofuels. Algae also offers significant benefits for agriculture and we need to ensure we're maximizing innovative ways to use it."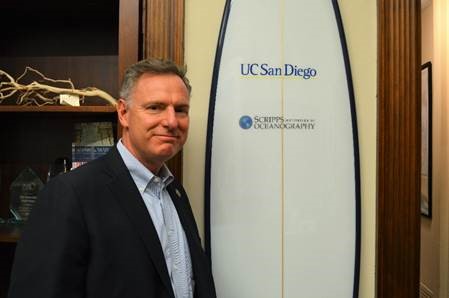 Rep. Peters with an algae-based surfboard he purchased from UC San Diego.
The Algae Agriculture Act of 2018 expands eligibility requirements for agricultural research and commodity programs to include algae, a diverse group of plant-like organisms that contain proteins and oils that can be used as biofuels and nutrition.
Key eligibility expansions include:
"Arizona's Fifth District is home to the ASU Center for Algae and Technology Innovation, the Algae Testbed Public-Private Partnership, and Heliae Development," said Rep. Andy Biggs (AZ-05). "Arizona's climate and strong partnership between academia, industry, and community leaders makes the ideal environment for all algae operations." 
"The Batelle Marine Science Lab in Sequim is at the forefront of research into the use of algae as a biofuel," Rep. Derek Kilmer (WA-06) said. "That means this effort isn't about growing algae — it's about growing jobs.  Congress should support this innovation so America can explore this green energy's promising possibilities."
"Facilities such as the Corbion and Alluvian plants in Peoria find new ways to utilize algae every day," Rep. Darin LaHood (IL-18) said. "That is why I am proud to co-sponsor this bill, which will ensure that algae researchers like those in my district can obtain the investments they need to continue innovating."
"Although algae look a little different from your typical row crop, they offer incredible opportunities in human health, animal feed, and industrial uses like fuels and plastics," said Matt Carr, Executive Director of the Algae Biomass Organization. "This bipartisan bill will help accelerate commercial development of algae-based technologies, creating jobs, exportable products and ushering a new era for agriculture. We thank Congressman Peters as well as Congressmen Biggs, Kilmer and LaHood for their vision and support of this bill."
The bill also authorizes studies on other benefits of algae production and use, including its potential for ecosystem support for crops and animals, nutrient management and soil heath, production infrastructure, and other ways to deploy algae as an agricultural solution.