Rep. Peters' Clean Energy Bill Passes House of Representatives
Today, the House of Representatives unanimously passed U.S. Congressman Scott Peters' (CA-52) Hydropower Permit Extension, or "HYPE" Act, to cut red tape in the construction permitting process for hydropower projects and encourage greater investment in clean energy. The HYPE Act adds a year to preliminary construction permits for hydropower projects, and allows the Federal Energy Regulatory Commission to give projects a four-year extension if delays prevent them from breaking ground.
Right now, it requires an act of Congress to extend construction permits for hydropower projects, even though they have already undergone a rigorous approval process. Most hydropower projects do not require the full length of the permit to begin construction, but for those that experience delays, the HYPE Act will give them more time and greater certainty.
"Producing more base load electricity from hydropower is central to meeting our clean energy goals and reducing harmful emissions that pollute our air and water," said Rep. Scott Peters. "The HYPE Act will ensure that delayed hydropower projects do not have to rely on an act of Congress to get an extension. By cutting this red tape, the HYPE Act will provide greater certainty for hydropower projects and the communities where they are built, and help incentivize more investment in this source of clean energy."
Rep. Peters continued, "Moving forward, the ultimate solution to unlocking hydropower is to streamline the regulatory process. I hope that we can have productive, bipartisan conversations about how to get hydropower projects approved more quickly while still meeting high environmental standards."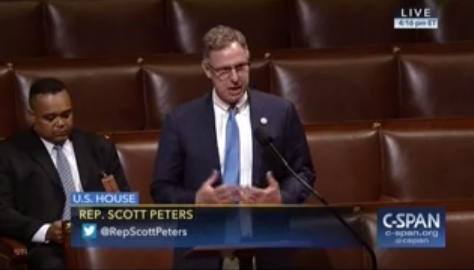 Click HERE or above to view Rep. Peters speak in support of hydropower and his HYPE Act before it was unanimously passed by the House of Representatives.