Rep. Peters Backs Defense Bill with Big Raise for Service Members, Boost for Navy Shipbuilding and Aircraft
Helps lead bipartisan energy and climate victories
Today, U.S. Congressman Scott Peters (CA-52) helped pass the National Defense Authorization Act, which lays out defense spending and policy for the next fiscal year. This year's legislation includes a 2.4% pay raise for service members, the largest in 8 years; a 50% increase in funding for Navy shipbuilding that will continue construction of new aircraft carriers and provide the Navy with three new Littoral Combat Ships and three new destroyers; and additional resources to meet the Navy and Marine Corps' previously unfunded requirements for additional fighter jets. The bill authorizes $487 million for new military construction in San Diego County – including $259 million to support Navy Special Operations Forces on Coronado – which will give San Diego's military leaders the resources they have requested and boost the region's economy.
In a victory for defense energy security, the House-passed version of NDAA does not include provisions that prevent the military from investing in alternative energy or restrict its ability to plan for how climate change will alter the global security environment and threaten U.S. military installations. Rep. Peters has been a leader on these issues since coming to Congress, and helped lead a bipartisan defeat of two amendments that would have chilled defense energy investment and halted research on climate change as a national security threat.
Rep. Peters released the following statement after voting in favor of the National Defense Authorization Act (NDAA), which passed on a bipartisan 344-81 vote:
"Providing for a smart, robust national defense that keeps Americans safe and gives our military the tools to defeat our enemies abroad is the most important thing we do in Congress. Today I voted to give our service members their largest raise in eight years, provide the Navy and Marine Corps with new planes and ships that will enable them to better carry out their missions, and ensure that the military can continue its energy innovation that saves lives and reduces costs.
"I have seen broken parts on military aircraft being replaced by cannibalizing parts from other planes. At a time when we are finally pushing back ISIS, and facing increased aggression from North Korea, this is unacceptable. Today's bill would increase funds for new planes for the Navy and Marines, and provide an additional boost for readiness that will help keep planes in the air to train our pilots and enable them to respond to the new and dynamic threats we ask them to face.
"The funding we authorized for military construction in San Diego County will continue the modernization of the Navy SEAL facilities on Coronado, provide a new simulator and hangar upgrades at Miramar, and improve facilities at Camp Pendleton. This not only gives San Diego's service members more of the resources they have asked for to carry out their mission, but further expands the military's investment in San Diego that supports job creation and drives one-fifth of our region's economy."
"And we finally passed a defense authorization bill that gives the military the freedom to pursue its energy security goals and prepare for the threat of climate change. Congress cannot afford to let politics get in the way of letting the military invest in energy innovation and prepare for how a changing climate puts our military bases at risk and changes the scope and nature of the threats we face."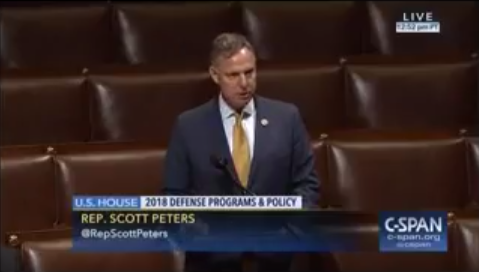 Click HERE to see Rep. Peters help defeat an anti-energy security amendment, and HERE to see him help defeat an amendment that would have prevented the Pentagon from studying the national security threat posed by climate change.
The NDAA bill increases funding to $50 million for Impact Aid for schools that serve large number of military-connected students. This is of particular importance to San Diego where about 10 percent of students are children of active duty parents. Coronado Unified School District received $1.5 million in Impact Aid during the 2015-2016 school year, while San Diego Unified received more than $12 million. The bill also authorizes the military to reimburse a service member up to $500 for a spouse's expenses related to obtaining licensing or certification in another state because of a military move.