Rep. Peters' Amendment to Stop Cuts to Funds to Help Homeless Vets Passes As Part of Larger Spending Bill
Peters Praises Military Construction Funds; Fights Provisions to Eliminate Environmental Protections
Today, the U.S. House of Representatives passed Congressman Scott Peters' (CA-52) amendment to prohibit the Trump Administration from gutting funding for veteran homelessness programs. The amendment was included in a larger package of appropriations bills, which Peters supported, that fund energy research, military construction, and the Department of Veterans Affairs. When signed into law, this legislation will provide funding through the end of the fiscal year. It includes funds important for San Diego, specifically $1.77 billion for homeless veterans' assistance programs, more than $401 million in military construction funding for San Diego County, and $2.9 billion for the Veterans Benefits Administration to reduce disability backlog claims.
 "It's unconscionable that this Administration even considered cutting critical funds to help get homeless vets off the streets and into housing. My amendment that passed today helps ensure our nation keeps its promises to our veterans," said Rep. Peters.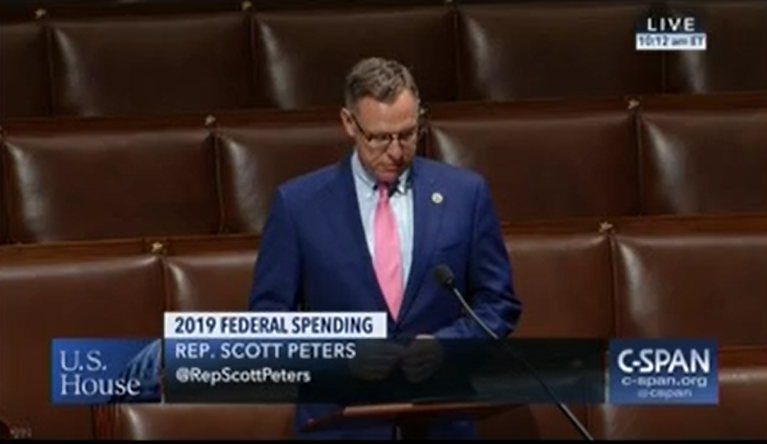 Click HERE to watch Rep. Peters deliver remarks from the House floor urging his colleagues to pass his amendment to ensure homeless veterans have access to essential resources.
Since coming to Congress, and now as a member of the House Veterans' Affairs Committee, Rep. Peters has championed programs that address veteran homelessness in San Diego and across the country. In January, Rep. Peters questioned the Department of Housing and Urban Development (HUD) about what the agency is doing to address the gap between high housing costs and the value of vouchers for veterans. HUD acknowledged more must be done to bridge the gap between the rising housing costs across the country and the value of vouchers provided by HUD and the Veterans' Administration.
"This legislation invests in important priorities; it funds veteran homelessness programs, invests in San Diego military installations, and supports the Yucca Mountain nuclear waste repository. I strongly disagree with, and argued against, the cuts it makes to our renewable energy investments like the Advanced Research Projects Agency-Energy and the Energy Efficiency and Renewable Energy program, cuts pushed by Republicans and supported by the Trump Administration. I hope the Senate will restore this funding and that it will be part of the final bill signed by the President. In the end, however, I supported today's package because it invests heavily in San Diego in a way that will boost our local economy and create jobs, and will go a long way toward supporting veterans in San Diego and the country," Peters added.
The legislation also included boosts to the following programs:
$268 million for the Yucca Mountain Nuclear Waste Repository
$1.2 billion for electronic health record systems in the Veterans' Administration
$70.9 billion for Veterans Health Administration for medical costs