House Passes Rep. Peters' Amendment to Increase Infrastructure Resiliency
Legislation includes resources for San Diego County water project and Flint
WASHINGTON, DC – Last night, the House passed U.S. Congressman Scott Peters' (CA-52) amendment to the Water Resources Development Act that gives the Army Corps of Engineers the resources to evaluate the structural health of its current infrastructure and construction projects. By using structural health monitoring, the Army Corps can increase the resiliency of potentially vulnerable infrastructure before a disaster strikes, and be able to more quickly evaluate damage after a disaster. Congressman Peters joined a bipartisan majority in passing the bill, which also authorizes $20.2 million in initial federal funding for the Encinitas and Solana Beach Coastal Storm Damage Reduction Project and provides $170 million to repair water infrastructure in Flint, Michigan.
"We know that for every dollar we spend on preparedness we save four dollars in disaster recovery costs, not to mention countless lives," Rep. Peters said. "As the frequency and intensity of extreme weather events increase, it is smart to make sure our infrastructure is resilient in the event of a disaster. This amendment gives the Army Corps of Engineers, which builds and maintains much of our water infrastructure, the tools to enhance resiliency to floods, earthquakes, sea level rise, and other disasters."
The Water Resources Development Act, which decides water infrastructure projects and policy for the Army Corps of Engineers for the next two years, includes a provision allowing water supply and environmental projects to be deemed eligible for the Army Corps' annual report to Congress, and therefore eligible for federal funding. Congressman Peters has long advocated for this change, which is a step in the right direction to get federal resources for a number of San Diego water recycling and security projects. Additionally, the bill allows the Port of San Diego to access more money from the Harbor Maintenance Trust Fund than it was previously allowed, enabling it to take better advantage of the money it contributes to the fund.
The $20.2 million in initial federal funding for the Encinitas and Solana Beach Coastal Storm Damage Reduction Project will help reduce risks to public safety and commerce associated with bluff and beach erosion in that area of San Diego County. The bill also included a bipartisan compromise to allocate funding to address the water crisis in Flint, Michigan, something Rep. Peters has called for since visiting Flint in February.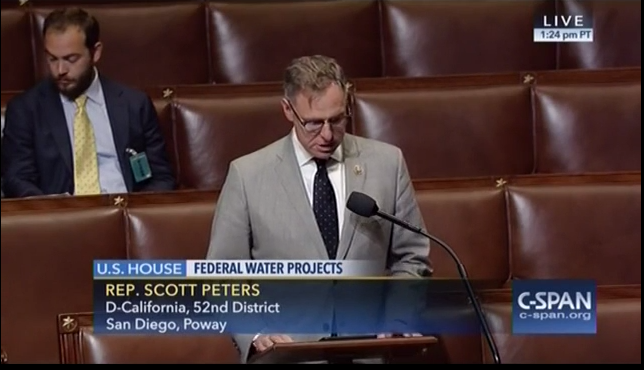 Click HERE or above to watch Rep. Peters speak in support of his amendment.