House Passes Peters' Bill to Increase Disaster Spending Transparency
Today, the House passed the bipartisan Disclosing Aid Spent to Ensure Relief (DISASTER) Act, introduced by Rep. Scott Peters (CA-52) and Rep. Mark Meadows (NC-11). The bill requires the Office of Management and Budget (OMB) to publish a single total of federal disaster relief funding, including all 29 accounts across 11 different federal agencies to increase transparency and accountability of federal expenses on disaster relief. The bill would also require OMB to use this data to produce a report for Congress that gives an estimate of disaster spending for the fiscal year.
"In San Diego, we have watched our community come together to rebuild after deadly wildfires, and communities in California are still recovering from the worst wildfire season in our state's history. We know recovery can be slow and costly. As these disasters continue to get bigger and more frequent because of climate change, we must adequately and more accurately budget for these disasters. This bipartisan bill gives Congress a realistic and data-based number to work with; it also establishes transparency in our federal budget," said Rep. Peters.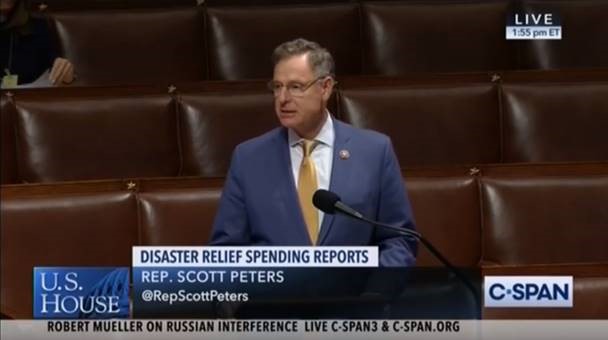 Watch Rep. Peters highlight why Congress should pass the DISASTER Act here.
The United States has spent hundreds of billions on disaster relief, and there have been more than 2,400 federally declared disasters since 2000, according to the Federal Emergency Management Agency (FEMA).
Rep. Peters introduced the DISASTER Act in April. He and Rep. Meadows also introduced bills to identify overlapping disaster recovery efforts, explore emerging technologies to direct response efforts, and ensure that all information on disaster spending can be found in one location on USAspending.gov, in a machine readable format.