House of Reps Passes Peters' Bipartisan Bill to Provide Education and Career Counseling for All Deployed Troops
Today, U.S. Congressman Scott Peters' (CA-52) bipartisan bill to extend education and career counseling to all deployed servicemembers passed the House. The Reserve Component Vocational Rehabilitation Parity Act extends Vocational Rehabilitation and Employment (VR&E) services provided by the Department of Veterans Affairs (VA) to reservists and guardsmen who are called to serve during times of war or national emergency.
"Our veterans served our country, and it's our duty to make sure they can access the resources and full benefits they earned—regardless of how and when they served. America should support them as they transition into civilian life, and this overdue fix helps guardsmen and reservists go to school, join the workforce, and become integrated and self-sufficient members of our communities," said Rep. Scott Peters. 
Under current law, two reservists serving side-by-side on active duty may not receive the same vocational rehab benefits simply because of the authority under which they were mobilized. Upon separation from active duty, months or years spent deployed as a reservist can count against the 12 years that veterans have to access their benefits. Veterans lose eligibility to access these benefits 12 years after they separate from active military service or after the VA notifies them of a service-related disability rating.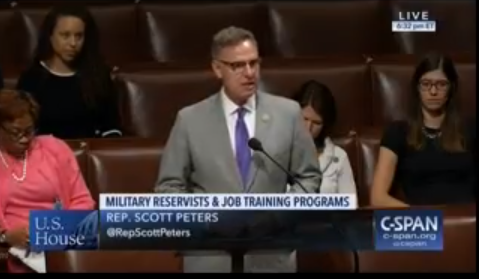 Watch Rep. Peters speak on the House Floor in support of his bill HERE.
Rep. Peters and Chairman Bergman (MI-01) introduced the bill in April with the support of their Veterans' Affairs Committee colleagues, and in May spoke before the full Veterans' Affairs Committee in support of sending the bill to the House floor. The Veterans' Affairs Committee passed the bill earlier in July.
Since being named to the House Veterans' Affairs Committee during 115th Congress, Rep. Peters has introduced and passed several bills that have become law. These include a bill that extends post-9/11 GI benefits to all Purple Heart recipients and a bill that boosts veteran peer mentoring that was included in the Veterans' Affairs MISSION Act. He also has introduced an amendment to prohibit the redirection of funds intended to address veterans experiencing homelessness, and legislation that promotes VA health care transparency and competition, both of which passed the House.