Press Releases
WASHINGTON, D.C. – Yesterday, the House overwhelmingly passed the bipartisan Veteran HOUSE Act of 2020, introduced by Rep. Scott Peters (CA-52), by a vote of 362-31. The bill will help tackle veteran homelessness by expanding the Department of Housing and Urban Development-Veterans Affairs Supportive Housing (HUD-VASH) program to ensure chronically homeless veterans discharged under conditions other-than-honorable (OTH), but not dishonorable, are eligible for HUD-VASH housing vouchers and supportive case management. The HUD-VASH program is a proven tool to help end chronic veteran homelessness. Since the creation of the program, the rate of veteran homelessness has been cut in half.
"Thousands of veterans are not currently eligible for the vital resources the HUD-VASH program provides due to their other-than-honorable discharge status, often received for administrative reasons. Veterans with other than honorable discharges make up 3 percent of the veteran population – but they compose 15 percent of the homeless veteran population. Expanding housing assistance and services to these men and women would allow homeless veterans who have slipped through the cracks access the support they have earned through their service to our country," said Rep. Peters.
"Should this bill become law, about 1,300 veterans will eventually be served by HUD-VASH, taking a major step towards addressing homelessness not just in San Diego but across America."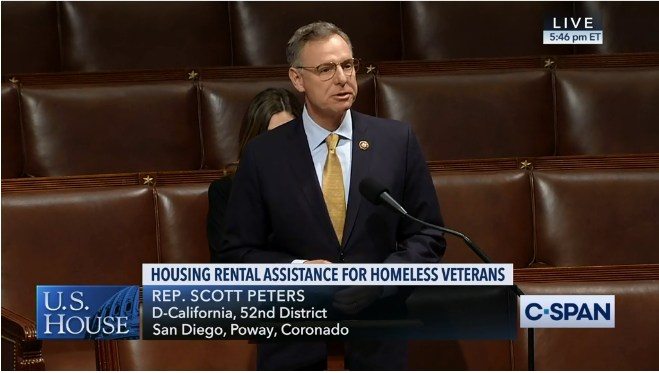 Watch Rep. Peters highlight why Congress should pass the Veteran HOUSE Act here.
The following organizations have expressed support for the bill: the City of San Diego, the San Diego Chamber of Commerce, the San Diego Downtown Partnership, San Diego Military Advisory Council, the American Legion, Paralyzed Veterans of America, Veterans of Foreign Wars, AMVETS, National Alliance to End Homelessness, National Coalition for Homeless Veterans, Community Solutions, National Housing Law Project, and Disabled American Veterans.
"San Diego has taken great strides to reduce homelessness by using a data-driven approach to improve the efficiency and effectiveness of the services we provide. In the past, some federal housing vouchers were underutilized because of the barriers and restrictions placed on them, so we made them easier to use. I want to thank Congressman Peters for helping us expand eligibility for the VASH voucher program so that we can maximize the resources we have and help even more veterans end the cycle of homelessness for good," said Mayor of San Diego Kevin Faulconer.
"The Veteran HOUSE Act is a significant step to help address chronic homelessness among military veterans in the San Diego region by making more veterans eligible for rental assistance and supportive services through the HUD-VASH voucher program. I commend and thank Representative Peters for his leadership on this issue. I look forward to continuing to work with HUD, the VA, the City of San Diego and additional partners to end veteran homelessness in the City of San Diego," San Diego Housing Commission President & CEO Richard C. Gentry said.
"The Regional Task Force on the Homeless has strongly supported HR2398, legislation that would expand eligibility for our veterans to HUD-VASH benefits for homeless veterans who have received an 'other than honorable' (OTH) discharge. The OTH discharge should not be confused with a dishonorable ('bad conduct') discharge. This will be lifesaving for our chronically homeless veterans who have been other than honorably discharged and currently are not eligible for receiving the housing and services that would allow them to get off the streets permanently, stabilize and recover from homelessness. This expansion is timely and critical for our communities," said Tamera Kohler, CEO of the Regional Task Force on the Homeless.
"Lowering barriers for veterans experiencing homelessness is an important part of addressing the issue of homelessness in our region, which is of critical importance to local businesses," said Jerry Sanders, San Diego Regional Chamber of Commerce President and CEO. "The San Diego Regional Chamber of Commerce is supportive of this bill and appreciative of its progress, recognizing its role in getting people off the streets and into safe and stable housing."
"Our organization continues to hear from concerned providers that there are homeless veterans in their communities who need the more intensive treatment provided by the HUD-VASH program but who are denied access because of the status of their discharge, even though being discharged OTH is neither a bad conduct discharge nor a dishonorable discharge," said Nan Roman, President and CEO of the National Alliance to End Homelessness. "This particular group of veterans is disproportionately vulnerable to homelessness—and thanks to Representative Peters' leadership they will finally be allowed to enroll in a HUD-VASH program that can actually help them to get off the streets and lead healthy, meaningful lives. Now we need the Senate to get behind Representative Peters' legislation."