Press Releases
WASHINGTON, DC – Today, U.S. Congressman Scott Peters (CA-52) fought back against a series of attacks from President Trump and Speaker Ryan on family planning, preventative care, and the rights of women to make their own health care choices. Rep. Peters voted against H.R. 7, a bill passed by the House that would eliminate personal subsidies and small-business tax credits for any healthcare plans that provide abortion services to patients at their own expense. The bill also makes permanent the Hyde Amendment, which prohibits the use of federal money to pay for abortion.
"It's astonishing that – just a few days after millions of Americans took to the streets and expressed their concerns with President Trump and his agenda – we have to defend the rights of women to make their own health care choices," said Rep. Scott Peters. "The bill passed today would deprive hardworking women and families of affordable healthcare that lets them have a child on their own schedule in their own way."
Rep. Peters continued, "Family planning decisions are the most personal decisions that anyone can face; they should never be made by the government. And by making it more expensive and burdensome to be covered for the full range of family planning options, this extreme proposal threatens the financial security and independence of millions of American women and families."
Earlier today, Rep. Peters spoke out against President Trump's executive order implementing a new and even crueler version of the Global Gag Rule. The rule restricts international aid funding to block health organizations from providing HIV prevention and care, comprehensive maternal care, and even contraception to women and families in 60 countries around the world.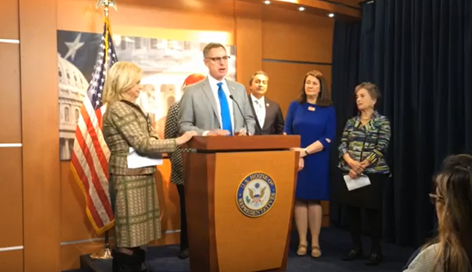 Click HERE or above to view Rep. Scott Peters speaking against the Global Gag Rule and H.R. 7 at a press conference held by the Pro-Choice Caucus.