Rep. Peters Votes Against Healthcare Repeal Bill in Energy and Commerce Committee
Today, after a marathon 27 hour meeting, U.S. Congressman Scott Peters (CA-52) voted against advancing the Republican healthcare repeal out of the Energy and Commerce Committee. The bill repeals many parts of the Affordable Care Act, including the individual and employer insurance mandates and the subsidies that help working families afford health insurance. The bill also makes drastic changes to the Medicaid program, which could hurt the more than 250,000 San Diegans who have gained healthcare coverage under the Medi-Cal expansion. The repeal bill passed the committee on a party line vote, the first of many steps in the path toward becoming law.
"I have been willing to work with both sides to protect the parts of the Affordable Care Act that are working, and fix the parts that aren't. That is not what this bill does," said Rep. Peters. "Independent experts estimate that this repeal bill would increase out-of-pocket costs for working families and leave them more susceptible to premium spikes. Doctors and hospitals have said it would dramatically reduce healthcare access, leaving tens of millions without coverage. And insurers state it would undermine both the individual and employer insurance markets, which could increase costs and reduce access even more."
The uninsured rate in San Diego County dropped from 17% to just 10% between 2013 and 2015, when the coverage provisions of the Affordable Care Act were implemented. The rate in Rep. Peters' district dropped from 9.4% to just 5.4%.
Rep. Peters concluded, "This is not a binary choice between leaving things as they are and voting for this rushed, reckless bill. I stand here willing and ready to work in a bipartisan way to address today's market conditions to provide more access to affordable care for all Americans. This doesn't do the job."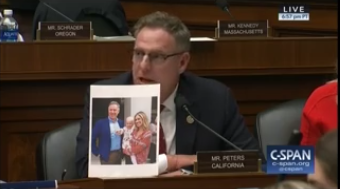 Click 
here
 or above to view Rep. Peters share the story of Charley McMahon, a four year old girl from San Diego with Leukemia whose treatment is covered because of the Affordable Care Act and Covered California.  
Rep. Peters was an active player during the hearing, urging fiscal responsibility and bipartisanship, and sharing the story of a San Diego family who benefitted from coverage gained under the Affordable Care Act. View Rep. Peters' remarks here, here, and here.