Rep. Peters Questions Fed Chair About Effect of Federal Debt on the Economy
Today, Rep. Scott Peters (CA-52) questioned Federal Reserve Chair Jerome Powell during a House Budget Committee Hearing about how the American economy will fare in the years ahead, given the recent expansion of the federal deficit to $984 billion, a 26 percent increase from 2018. The federal debt has also topped $22 trillion. He asked how to address our rising debt, how debt inhibits our ability to respond to emergencies, and underscored the importance of maintaining an independent Federal Reserve.
This hearing was the first time a Federal Reserve Chair has testified at the Budget Committee since 2012.
"Today, I asked Chair Powell where our federal deficit should be on our list of priorities in the coming years and the consequences of spending more money on interest on our debt. We'll spend more money to service our debt than we do on children by next year, and more than we spend on the military in five years – that's a problem we face today. I will continue to advocate for responsible budgeting and stewardship of taxpayer dollars," said Rep. Peters.
Chair Powell responded by citing debt as a hindrance to economic growth in the long-term and stated that rising interest payments on the federal debt will take away future spending on education, health care, and infrastructure.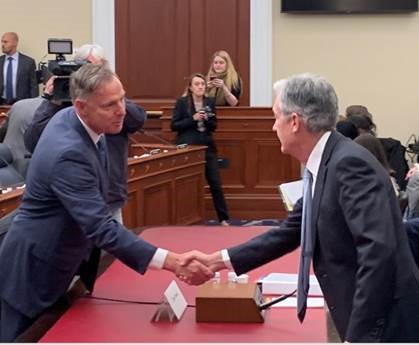 Watch Rep. Peters question the Federal Reserve Chair here.
Rep. Peters has advocated for fiscal responsibility since arriving in Congress. Over the last year, he has voted against the Cadillac tax repeal without budget offsetting and opposed the budget cap raise citing debt concerns. He was named a Fiscal Hero in 2018 by the Campaign to Fix the Debt.