Rep. Peters, 9 House Democrats Unveil Plan to Help Fix Health Insurance Markets, Keep Premiums Down
Today, U.S. Congressman Scott Peters (CA-52) and a group of House Democrats from across the political spectrum unveiled a five-part plan to stabilize the individual health insurance marketplace and slow the growth of premiums and deductibles. Over the weekend, Rep. Peters wrote an op-ed for the San Diego Union Tribune arguing that Congress should come together to fix the Affordable Care Act and make health insurance more available and affordable for Americans.
The three solutions that Rep. Peters laid out in that op-ed – making federal reinsurance programs permanent, committing to long-term funding for Cost-Sharing Reduction Payments, and boosting the participation of young, healthy enrollees in the marketplace – are included in the plan announced today. These solutions are aimed at increasing choice and keeping costs down. A robust reinsurance stability fund would reduce premiums in 2018 by an average of 15%. Continuing to fund CSR payments would save the government $2.3 billion in spending per year and help working families afford health care. And without enforcement (or effective replacement) of the current mandate, average premiums in 2018 and 2019 are projected to increase 15 percent to 20 percent higher than they would otherwise.
"Republicans are faltering in their misguided attempt to work only within their own party to repeal the Affordable Care Act. This failure is causing the real problems in our health care system to go unaddressed," said Rep. Scott Peters. "It is not our job as Democrats to just stand by and watch this happen. San Diegans send me to Congress to solve problems and get things done. We need to develop real solutions that can gain support from both parties and help make health care more available and affordable for Americans. By stabilizing the individual insurance markets, the proposals we announced today would help increase choice for Americans who use the exchanges and slow the growth of premiums and deductibles. It's beyond time for Congress to put politics aside and get to work together on bipartisan solutions like these that protect what is working in our health care system and fix what isn't."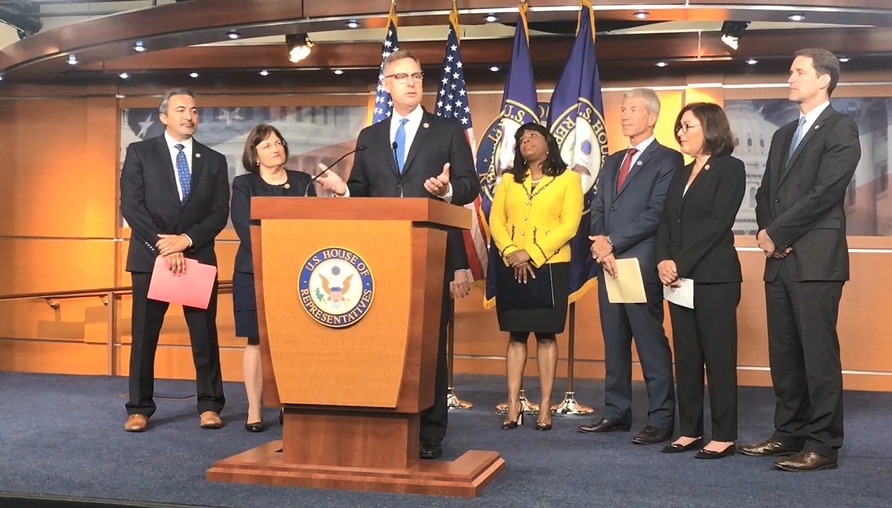 Click HERE or above to view Rep. Peters speaking at the announcement today.
The plan, titled Solutions Over Politics, seeks to stabilize the individual market while protecting plans for people with pre-existing conditions, keeping costs down for lower income Americans, promoting enrollment and ensuring everyone pays their fair share. The plan also calls for improvements to the ACA including aligning the open enrollment period with tax season and drawing bidding areas to ensure that rural areas aren't left at a disadvantage.
The other Democrats who announced the plan are Reps. Kurt Schrader (OR-05), Ami Bera (CA-07), Ann McLane Kuster (NH-02), Peter Welch (VT-At Large), Terri Sewell (AL-07), Kathleen Rice (NY-04), Jim Himes (CT-04), Ron Kind (WI-03), and Suzan DelBene (WA-01).
Read the white paper here.