House Veterans' Affairs Committee Advances Rep. Peters' Bipartisan VA Health Care Transparency and Competition Bill
Today, U.S. Congressman Scott Peters (CA-52), highlighted the markup and favorable report out of the House Veterans' Affairs Committee of his bipartisan legislation requiring the Department of Veterans Affairs (VA) to award contracts to multiple regional providers for medical supplies. This requirement would drive health care prices down in the Medical/Surgical Prime Vendor (MSPV) program by increasing transparency and creating competition.
"The Veterans' Affairs Committee quickly moved to consider this bill because it's an important step to increase transparency, create competition, and drive health care pricing down. It requires the VA to award contracts to at least two regional prime vendors for medical supplies, and instructs doctors, nurses, and other medical professionals to decide which supplies and devices are needed to offer the best care," said Rep. Peters. "It makes sure the right people are at the table to make clinical decisions, so veterans get better access to the quality care they deserve."
This bill addresses problems identified in a December 2017 Government Accountability Office (GAO) report that highlighted high costs, a lack of efficiency, and a lack of competition in the current purchasing structure for medical and surgical supplies.
The Veterans' Affairs Committee also passed legislation that extends funding for the VA Choice Program for a year and expands the VA's Post-9/11 Caregiver Program to all eras.
Rep. Peters joined his colleagues to pass an additional series of bipartisan bills out of committee, including the following measures:
H.R. 299, the Blue Water Navy Vietnam Veterans Act of 2017 (provides long-sought disability benefits for 90,000 Vietnam Navy veterans exposed to Agent Orange)
H.R. 2147, the VA Treatment Court Improvement Act of 2017 (expands Veteran Treatment Courts to promote rehabilitation and address substance abuse and post-traumatic stress disorder)
H.R. 4451, the Homeless Veterans' Reintegration Programs Reauthorization Act of 2017 (clarifies that veterans who are eligible for housing assistance from the Department of Housing and Urban Development, Supportive Services for Veteran Families, or Native American Housing Assistance can also receive assistance from the Homeless Veterans' Reintegration Program)
H.R. 4635, Peer 2 Peer Counseling Act (directs the Secretary of Veterans Affairs to increase the number of peer-to-peer counselors providing counseling for women veterans)
H.R. 4958, the Veterans' Compensation Cost-of-Living Adjustment Act of 2018 (provides a needed increase in compensation rates for disabled veterans)
H.R. 5520, the VA Medicinal Cannabis Research Act of 2018 (promotes medical research into cannabis and its use for veterans with chronic pain and post-traumatic stress disorder)
Rep. Peters has long supported efforts to provide quality health care to veterans, such as his backing of legislation passed earlier this year, and efforts to reduce the stigma surrounding mental health care for veterans.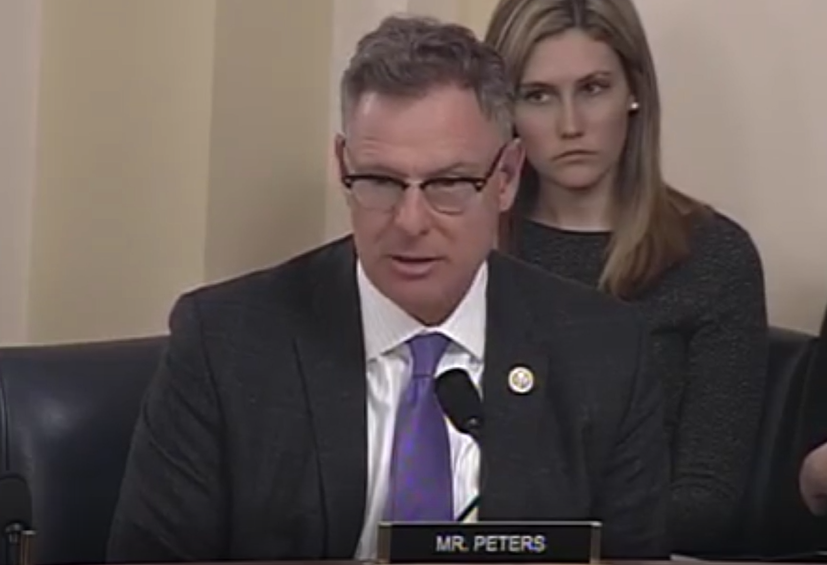 Click HERE to watch Rep. Peters discuss the MSPV bill during its introduction in the Veterans' Affairs Committee.