Rep. Peters Welcomes Taiwan's President to United States
Los Angeles– Today, U.S. Congressman Scott Peters (CA-52) welcomed Taiwan's 14th president, Tsai Ing-Wen, to the United States at a private breakfast with other members of Congress in Los Angeles. President Tsai was elected in January and is the first woman to serve in the role. Congressman Peters and President Tsai spoke about the Asian-American community in Peters' district in San Diego and the importance of strong relations between Taiwan and the United States. Peters also attended a dinner last night where he was honored to be invited to speak and extend a welcome to President Tsai  in front of hundreds of attendees from San Diego, Los Angeles and from throughout California.
"It was an honor to meet President Tsai and welcome her to the United States on behalf of San Diego and be a part of the dialogue to maintain peace and stability in the West Pacific," said Rep. Peters, an active member of the Congressional Asian Pacific American Caucus. "San Diego is home to a robust Asian American and Pacific Islander population, many of who are of Taiwanese descent. In the last two decades, Taiwan has emerged as an effective democracy and important partner in the Pacific, and I look forward to continuing to support that partnership in Congress," said Peters who added that meeting President Tsai had special significance because he has two AAPI staff members who were born in Taiwan.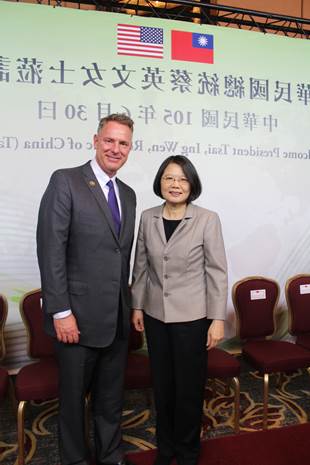 Rep. Scott Peters pictured with President Tsai Ing-Wen of Taiwan.
Last month, Rep. Peters helped pass the Reaffirming the Taiwan Relations Act, which reestablishes United States support for the Taiwan Relations Act and the Six Assurances—the cornerstone of United States relations with Taiwan. Since 1979, the Taiwan Relations Act has authorized commercial and cultural relations between the United States and Taiwan, despite no diplomatic ties between the two countries, as a way to foster peace and stability in the Western Pacific.
Congressman Peters serves the 52nd District of California which covers much of central San Diego County including Poway, Coronado, and large portions of the City of San Diego. He is a member of the House Armed Services Committee and House Judiciary Committee. The Congressman is a former environmental attorney, City Council President, and Port Commission Chairman.